КЛЮЧОВИЙ СЕГМЕНТ ЦІЛЬОВОЇ АУДИТОРІЇ В ТЕОРІЇ ТА ПРАКТИЦІ БРЕНДИНГУ МІСТА
Viktoriia V. Koval

Київський університет імені Бориса Грінченка
Анотація
У статті досліджується актуальна проблема: визначення ключового сегмента цільової аудиторії брендингу території, зокрема брендингу міста. Проаналізовано наукову та публіцистичну літературу з питань брендингу. Визначено коло провідних авторів- теоретиків, які розробляли поняття «брендинг міста», «брендинг території», фокусували увагу на цільовій аудиторії цього виду брендингу. Розглянуто низку практичних кампаній з брендингу столичних міст центральної та східної Європи. Встановлено факт та зміст консенсусу щодо ключового сегмента цільової аудиторії, окреслено панівну концепцію провідних наукових та практичних робіт із питань брендингу міста чи території. Розроблено рекомендації з перспективних напрямів науково-практичних досліджень, управлінських рішень, заходів для оптимізації брендингу українських міст.
Завантаження
Дані завантаження ще не доступні.
Посилання
Kotler, P., Haider, D. & Rein, I. (1993), Marketing Places: Attracting Investments, Industry and Tourism to Cities, States and Nations, The Free Press, N. Y., 388 p.
American Marketing Association (2016), "Dictionary", available at: https://www.ama.org/resources/ Pages/
Dictionary.aspx?dLetter=B&dLetter=B (accessed: 05.11.2016).
Stewart-Allen, A. (2002), Working with Americans: How to Build Profitable Business Relationships, Pearson Education, London, 291 p.
Alkema, V. G. & Kochenko, K. A. (2014), "Brending strategies in providing innovation enterprise efficiency", Vcheni Zapysky Universytetu "KROK" [Scientific Notes of "KROK"
Univeristy], VNZ Universytet ekonomiky ta prava "KROK",vyp. 36, pp. 196–204.
Verkhovna Rada of Ukraine (2015), Degree of the President "On the Sustainable DevelopmentStrategy "Ukraine – 2020", available at: http://zakon2.rada.gov. ua/laws/show/5/2015#n10.
Shulgina, L. M. & Leo, M. V. (2011), Brending:
Theory and Practice (Basing on the Example of Commercial
Real Estate): a Monograph, Aston, Kyiv-Ternopil, 272 p.
Koval Viktoriia. A key segment of target audience in the theory and practice of city branding
Muromkina, I. I. & Evtushenko, E. V. (2000), Features of Branding in the Russian Market, Marketing, no. 1, pp. 69–75.
Kovalov, A. V. (2013), "Theoretical basis of brand, branding and rebranding", Teoretychni i Praktychni Aspekty Ekonomiky ta Intelektualnoi Vlasnosti [Theoretical and Practical Aspects of Economics and Intellectual Property], available at: http://nbuv.gov.ua/UJRN/ Tpaeiv_2013_2(1)__13 (accessed: 01.11.2016).
Kotler, F., Asplund, K., Rejn, I. & Hajder, D. (2005), Marketing of Territories. Attracting Investments, Enterprises and Tourists to Cities, Communities, Regions and Countries of Europe, Piter, St-Peterburg, 382 p.
Anholt, S. & Hildreth, J. (2010), Brand America:The Mother of All Brands, Dobraya kniga, Moscow, 232 p.
Dinnie, K. (2013), Branding of Territories. The Best World Practices, Mann, Ivanov i Ferber, Moscow, 336 p.
Vizgalov, D. V. (2011), City Branding, Foundation "Institute of City Economy", Moscow, 160 p.
The Main Office of Statistics in the Kyiv City (2016), "Higher educational institutes", available at: http:// www.kiev.ukrstat.gov.ua/p.php3?c=532&lang=1 (accesses:
10.2016).
Hrynchuk, N. (2014), "Formation of territorial marketing strategies", Vseukrainska Merezha Fakhivtsiv ta Praktykiv z Rehionalnoho i Mistsevoho Rozvytku [All-Ukrainian Network of Specialists and Practitioners on Regional and Local Development], Kyiv, 43 p.
Selivan, R. (2015), "How the transport brand of
Budapest was created", Sostav.ru, available at: http://www.sostav.ru/publication/vse-o-novom-brende-gorodskogo-
transporta-budapeshta-18478.html (accessed: 06.11.2016).
Lange, M. (2012), Warsaw City Brand, Copenhagen
Business School, 112 p.
Demjanenko, A. N. & Ukrainskij, V. N. (2013), Branding of Cities: Foreign Experience and Mutations on Russian Land, Prostranstvennaja ekonomika, Moscow, 179 p.
Rainisto, S. K. (2003), Success Factors of Place Marketing: A Study of Place Marketing Practices in Northern Europe and the United States, Helsinki University of Technology, Institute of St, 271 p.
Zaplitna, T. (2016), "Branding as a tool for decentralization in management of territories", in Malyi, I. J. (Ed.), Proceedings of the IV International Scientific Practival Conference "Modernization of National Economy Management", 25–26 November 2016, Ministry of Education and Science of Ukraine, Kyiv National Econimic University named after Vadym Hetman, KNEU, Kyiv, pp. 221–225.
Sadrejev, I. (2013), "How to create the brand of city: 7 advices of Jose Torres", The Village, available at: http:// www.the-village.ru/village/city/situation/123549-brending-gorodov-intervyu (accessed: 25.10.2016).
Middlton, A. (2013), "City Branding and Domestic Investments", Post Nauka [Post Science], available at: https://postnauka.ru/longreads/14835 (accessed: 11.2016).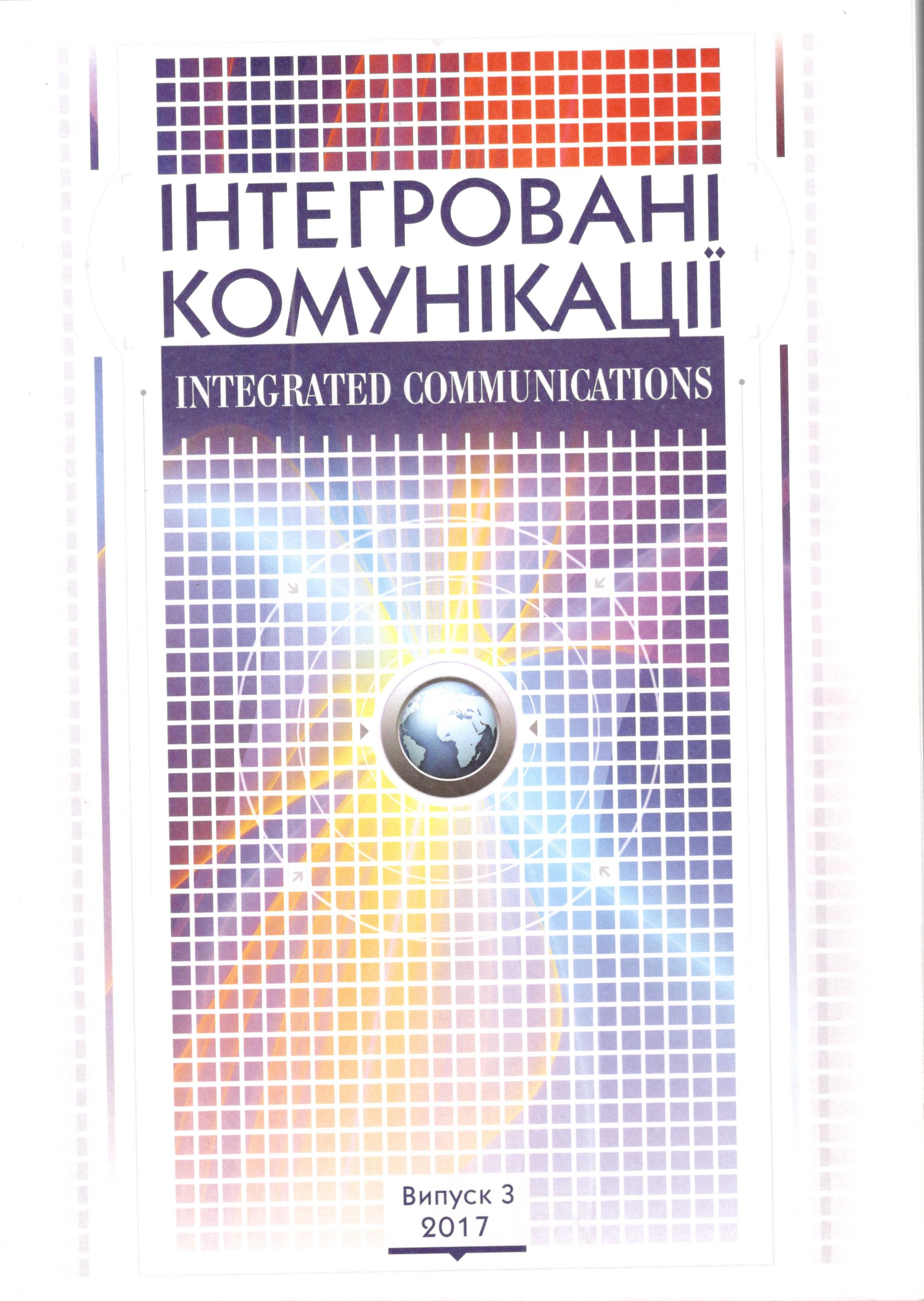 Переглядів анотації: 166 Завантажень PDF: 165
Як цитувати
Koval, V. V. (2019). КЛЮЧОВИЙ СЕГМЕНТ ЦІЛЬОВОЇ АУДИТОРІЇ В ТЕОРІЇ ТА ПРАКТИЦІ БРЕНДИНГУ МІСТА. Інтегровані комунікації, (3). вилучено із https://intcom.kubg.edu.ua/index.php/journal/article/view/101
Розділ
Наукові розвідки студентів